By Elena Higgison

published

on
To help us better understand key elements of digital identity — and to test possible future scenarios — the Digital Identity Transition team are carrying out collaborative design experiments.
To help us better understand key elements of digital identity — and to test possible future scenarios — the Digital Identity Transition team are carrying out collaborative design experiments. They're part of building an evidence base for the Digital Identity Transition Programme.
The insights we gather through the experiments will inform:
the options for a future digital identity ecosystem in New Zealand
the role Government might play in this ecosystem, and
the sorts of things required in a Digital Identity Trust Framework.
We're sharing this journey with government organisations and the private sector, as we're all working to solve common pain points and create new possibilities with digital identity.
With their help, our experiments benefit from a wide range of perspectives and expertise, while also giving our partners an opportunity to test customer appetite for new technologies.
Read our previous blog post to find out how we decide which experiments to run.
Our experiments
Our experiments focus on a range of topics in the following areas:
Consenting to share your information
This experiment is looking at testing which approach people prefer when giving their informed consent to share personal information, such as sharing health records with health service providers.
In partnership with: ACC and Middleware NZ
Methods of verifying Māori identity
This experiment is exploring aspects of Māori identity that are important. This includes ways of verifying attributes through collectively held whakapapa information.
This project is part of a wider Māori engagement programme to inform, develop and create Māori-led thinking and practice regarding Māori identity.
In partnership with: Āhau
Verifiable Organisations Network
This experiment is looking to develop a Verifiable Organisations Network which will enable businesses to earn and exchange verifiable credentials. These aim to make their interactions with government and the private sector more seamless.
In partnership with: Ministry of Business, Innovation and Employment (MBIE) and Mattr
Trusting information verified in another country
This experiment is determining what's necessary to support cross-jurisdiction information sharing and verification of credentials, such as the qualifications of a teacher applying to teach in New Zealand.
In partnership with: NZ education agencies and the Treasury Board of Canada
Digital ways of verifying information to meet anti-money laundering (AML) compliance
This experiment is looking at what conditions and protocols are needed to connect, or 'bind', people to their government-held authoritative information. We're testing using digital products developed by private entities for AML compliance.
Testing digital solutions to on-board older people to government services
Now completed, this experiment demonstrated how a person could apply for superannuation online without needing to visit a service centre to verify their identity. They used a new approach to trusted information sharing under development by the Department of Internal Affairs (DIA).
In partnership with: Ministry of Social Development (MSD)
Working with incubator and accelerator experts
An Agile, 'Build-Measure-Learn' approach underpins each of our collaborative design experiments. Experts in incubation and accelerator programmes are helping us refine this approach on some of our projects.
Mattr Co-Lab Incubator
This is a special-purpose incubator for organisations to collaborate and experiment with technology and approaches related to Self-sovereign identity (SSI).
SSI is the concept that people can store their own information on their own devices, and then provide it to those who need to validate it — without relying on a central repository of information.
A number of our current experiments will spend time in the incubator to explore the concept of SSI and benefit from shared knowledge.
Mattr is a subsidiary of Spark New Zealand.
Lightning Lab GovTech Accelerator
The Lightning Lab GovTech Accelerator, now in its second year, supports local and central government organisations to tackle problems using proven innovation frameworks, methodologies and support.
Our consent and Māori identity-focussed experiments are based in the accelerator for the next 3 months.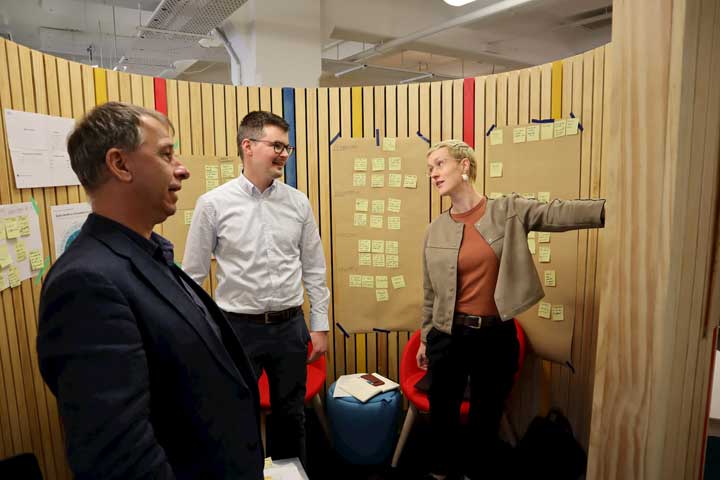 The Digital Consent team, who are part of the Lightning Lab GovTech Accelerator, engaged in problem discovery. This phase involves journey mapping of different customer segments. Left to right: Brent Fry (ACC), Matt Cleland (Middleware NZ) and Holly Grover (Lightning Lab).
Including stakeholders in the policy development process
The design experiments are an example of Government working in new and dynamic ways to collate evidence to inform policy development.
We have ongoing engagement with government organisations, the private sector, non-governmental organisations (NGOs), and will soon be conducting focus groups to include a range of citizens' voices.
This way of working provides an opportunity to build champions across the digital identity ecosystem. The people journey is just as important as the technology journey — if not more so.
Contribute to the digital identity programme
If you're working on aspects of digital identity and would like to contribute insights to the Digital Identity Transition Programme, we'd like to hear from you. Email us at:
Utility links and page information