By Kirk Mariner

published

on
"The Internet is not a luxury, it is a necessity." – President Barack Obama
We have whanau that live in a remote community in the Bay of Plenty. They choose not to have internet, though they do have a landline and a fax machine that still works.
Every time I need to access my email or phone message on my mobile, I find myself trying to find the highest point on the deck and wait for a signal (it's like going air-fishing waiting for a notification-bite). When that fails, every time we drive into the nearest town to buy essentials, about five kilometres into our journey, I receive a barrage of emails, texts and social media notifications. I do enjoy the distance from digital but think it is only a matter of time when digital will be on their doorstep, even in the most remote communities.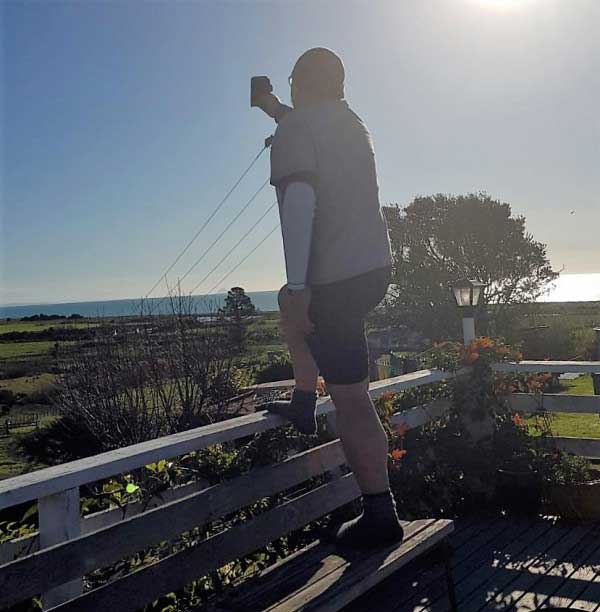 Kirk Mariner standing on a balcony holding his phone up to try and get reception
Since embracing digital, it has allowed us to do a range of things such as connect with family and friends, pay bills and make purchases online, take photos and film, watch live stream or videos, do work anywhere (almost anywhere) and engage government services such as applying for a passport. Digital can offer a range of conveniences and benefits that have become an essential part of our lifestyle.
However digital has its challenges and I have to admit I still struggle with a few things like trusting my personal information online and the 'hoha' of learning new digital skills so I can keep relevant at work. For example in a 3 week period I had to learn about Trello, Slack and Loomio. I am always traceable (I can run but I can never hide) because I will always receive a message - 'where are you' or 'can you pick up XYZ for dinner' or 'remember to……'. The number of apps on my phone is equivalent to Imelda Marcos's shoe collection - an app for every occasion - but it takes up so much storage space. I do sigh every month when I look at my telco bill for my data usage and wonder if I need to look at alternative and cheaper plans.
Despite this, I recognise we are in a digital age and opting out is increasingly difficult. So if I experience issues with digital, what about those groups in circumstances where they face socio-economic barriers and are already digitally disadvantaged or will be born into it.
Closing digital divides and making sure everyone has the resources and support is a key priority for the Government. Digital inclusion can lead to social and economic benefits; so everyone in New Zealand can enjoy a better quality of life through digital.
I'm fortunate to be part of an amazing and committed team who are responsible for working on the digital inclusion work programme. We're responsible for working out what government needs to do to close the digital divides and advance our digital capability, and how we can do it best by partnering with NGOs and the private sector.
To make sure we get this right, we'll be working alongside DEDIMAG (the Digital Economy and Digital Inclusion Ministerial Advisory Group), an independent group set up by the Minister for Government Digital Services to keep us government officials on point and grounded. We'll also be talking to the those on the ground who work with people in the community who are facing barriers in getting online, as well as the people who experience being digitally disadvantaged.
You'll be hearing more about the work we're doing in future blog posts from myself and the team, but also feel free to leave a comment or get in-touch with questions, comments and ideas - kirk.mariner@dia.govt.nz
Utility links and page information