Hui agenda
Learn more about the presenters, their topics and other planned activity — from the opening to closing karakia.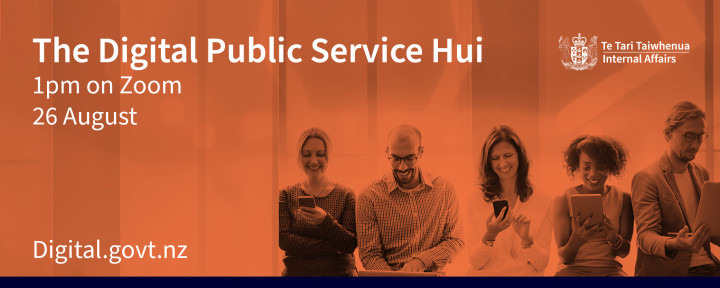 Opening karakia and welcome
First keynote speaker
Paul James, Government Chief Digital Officer and Chief Executive, Te Tari Taiwhenua Department of Internal Affairs
Topic: Progression and acceleration — delivering citizen-centric government
Second keynote speaker
Peter Hughes, Public Sector Commissioner, Te Kawa Mataaho Public Service Commission
Topic: Collaboration — the cornerstone of a unified public service
Panel discussion
Participants in the panel will outline their digital success and learning from their perspectives, either as part of a government organisation or system.
Topic: Their discussions will focus on how and why they are applying the Strategy for a Digital Public Service.
Table 1: Panellists

Panellist
Position
Organisation
Pennie Pierce
General Manager of Information, Chief Information Security Officer and Chief Product Officer

Te Manatū Whakahiato Ora

Ministry of Social Development

Murray Young
Deputy Chief Executive, Business Transformation

Toitū Te Whenua

Land Information NZ

Jason Tualima
Chief Advisor, Strategic Finance

Te Manatū mō ngā Iwi ō te Moana-nui-ā-Kiwa

Ministry for Pacific Peoples

Shayne Hunter
Deputy Director–General, Data and Digital

Manatū Hauora

Ministry of Health

Craig Jones
Deputy Government Statistician and Deputy Chief Executive

Tatauranga Aotearoa

STATS NZ

Mark Horgan
Principal Advisor, Education Sector, Information and Communications Technology (ICT)

Te Tāhuhu o te Mātauranga

Ministry of Education

Lisa Fong
Director, Information Assurance, and Cyber Security Director, National Cyber Security Centre

Te Tira Tiaki

Government Communications Security Bureau
Discussion groups
Topic: Opportunities and challenges for accelerating digital government
Panellists and speakers will have discussions with the senior digital leaders who have signed up for the Hui. An executive thought leader from the Digital Public Service will organise the groups and help the discussions run smoothly.
Third keynote speaker
Ann-Marie Cavanagh, Deputy Government Chief Digital Officer and Deputy Chief Executive for the Digital Public Service, Te Tari Taiwhenua Department of Internal Affairs
Topic: Innovation and collaboration — achieving a modern, resilient and unified public service
Closing karakia
Utility links and page information