Published 10 August 2020
Each year businesses may experience any number of hundreds of services provided across 20+ government agencies.
What does cross-agency business customer experience mean?
The business customer experience across government includes all of the information seeking, enquiries, interactions, transactions and confirmations across local and central government agencies each year.
For some businesses, this involves dealing with fewer than four agencies in a given year. For others, this can be in excess of dealing with eight or more agencies. Dealing with such a wide variety of services can be challenging and time consuming.
This image represents the number of services provided across 20 government agencies.
Understanding the experience businesses have dealing with government provides a focus for cross-agency collaboration.
Customer experience and analytics
To understand the overall business experience – and impact – of dealing with government, multiple perspectives are required. The Better for Business customer experience insights consider:
business customer needs
current service delivery experiences
political and environmental drivers.
Understanding business customers and sharing insights across government
To understand and enable government to improve the services provided to businesses, Better for Business conducts ongoing research and customer behaviour analytics to identify the needs, drivers and service experiences of different groups of business customers. This is then provided to government agencies and stakeholders via our online self-service data visualisation tool.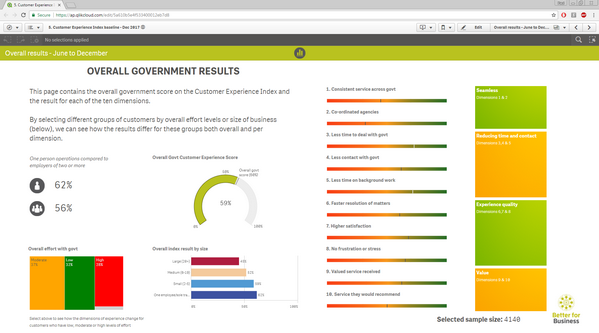 everything
In general, businesses tell us that the effort involved in dealing with government is lower for services delivered well through digital channels.
Services should be designed to best meet business customer needs; and while a variety of channels are required, increasingly businesses tell us it is easier to do things digitally. This requires not only digital service delivery, but digital integration 'behind the scenes' to enable more seamless customer experiences across government – such as filing tax directly from accounting software, or annual companies office returns directly from business systems.
Business uptake of key digital services in NZ: 2014–2017
The opportunity: Seamless services across government.
Our Better for Business customer insights tell us that the most significant opportunity to improve overall business satisfaction with government services is for the experience across government to be more seamless. Specifically ensuring that services are more consistent and coordinated.
Focusing on seamless services enables key cross-government initiatives including:
NZ Business Number
personalised services
deeper understanding of the needs of specific groups, or 'segments', of businesses.
The ten agencies who make up Better for Business are committed to improving the service experience across government for NZ businesses. We want to enable businesses to be more productive by spending less time with us and more time on their business.
Note
This initiative was created as part of the Better for Business collective.
Utility links and page information