Service design — overview
Service design is about making government services easy for people to use. This means designing services that put people at the centre and help them do the task they need to do, like learning to drive or buying a house.
A service design approach looks at the whole task, rather than the separate parts that might be spread throughout a government agency or across different agencies. Service design identifies problems and opportunities for the people using the service and the people delivering it and works out the best solution.
Service design works well with existing approaches, tools and methods, including the digital lifecycle.
Service design uses 4 phases: prepare, understand, create, develop. You can work through all or some of the phases, depending on what suits your project.
Prepare — help stakeholders understand the value of the service design approach, while also gathering information about customer needs and how the current service is delivered.
Understand — analyse the information you've gathered from customers and the business so you can understand the problem or opportunity you're dealing with.
Create — think about ways that might solve the problem.
Develop — find the solution that works best for the people using the service and the people delivering it.
Benefits
Using the service design approach delivers a customer-centred service solution that is:
low-risk — because you've tested potential solutions and learned which solutions worked and which solutions didn't work for customers and agencies

ready to implement

— because you've found out what the problem or opportunity is and the best solution for that problem or opportunity

supported and agreed on

— because you've collaborated and co-designed with customers and stakeholders throughout the work.
Detailed advice
4 phases of service design
Prepare
Talk to your stakeholders and get their buy-in.
Identify the affected customers and learn about their experiences, what they want to achieve and how it fits into the bigger picture for them.
Talk to the people delivering the service in your organisation so you can understand the service problem or opportunity from their perspective.
Understand
Analyse the customer and business information you've gathered and identify patterns and themes.
Work with stakeholders to develop a joint understanding of the underlying problem or to identify opportunities.
Create
Work in a group involving customers, stakeholders and team members with different skills, such as content designers and developers.
Together, come up with a broad range of ideas that might solve the problem.
Group similar ideas together and explore the patterns and different approaches.
Develop
Prototype the ideas you came up with in the create phase.
Test them with customers, stakeholders and team members.
Keep working on them until you find a solution that works in practice and meets the needs of your customers and the business.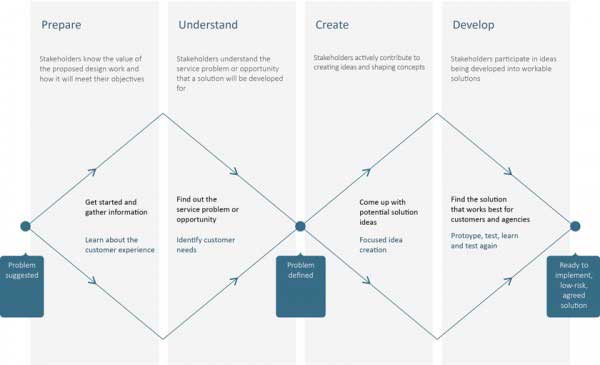 Examples of service design in government
Government agencies have blogged about their service design work and service design tools and methods they're using.
Tools & templates
Related advice
Utility links and page information