Personas
Personas are a design tool for bringing users to life. Personas represent people as types of users. They describes the users' activities, goals, behaviours and attitudes. Personas are based on real information and research about users.
Why it's useful
Personas are a useful reference point for understanding who you're designing a solution for — for example a new customer looking for direction or a call centre representative helping a customer with a new process.
Personas help tell the story of what life is like for a customer today and what they'd like it to be in the future, allowing you to explore possibilities. They also bring user research to life for designers and team members to help keep users at the centre.
When to do it
Personas are useful in the understand phase.
Use personas:
when you have a transformational business need — personas can connect you with the users throughout the work
as a tool to communicate service concepts
to progress prototyping — personas can be used to help focus on who the prototype is for
as a tool for making decisions about services.
The questions below can help you determine if personas will be useful for your design activity.
Does any user information exist?
What type of persona activity is relevant? Are typologies enough?
Typologies
How will personas be used? To progress the project? To shape thinking? To communicate with others?
How to do it
Personas are based on evidence.
Gather the relevant user information you've uncovered, including:

research information
any existing customer research you have — these might contain typologies
Typologies
other design activity that had produced typologies
user insight information.

Decide which information is relevant.
Sketch out the persona based on what you know:

who they are — give them a name and a description (like Get-it-Done Dan — likes to do everything himself)
what they do
any information that is relevant to the design parameters (if the project is about a portal, include information on the persona's technology and interaction preferences)
demographic information if it exists — this is optional
a picture — it is useful to give a face to the name, but this and personal details are optional.

Consider role-playing an interview with the persona to make sure you have captured the right kind of information.
Put your personas to work. Use them:

as characters to communicate
to illustrate personal quotes and powerful anecdotes
as prompts to describe task flows
to test service prototypes — touchpoints, interactions, processes.
Remember that real users should also be engaged when testing your design.
Example personas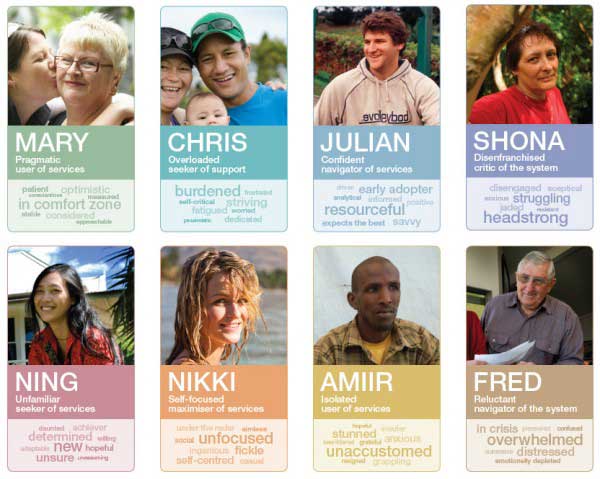 Utility links and page information