Social media — local research
Global trends
Fall in trust in government.
Decline in democratic participation (for example drop in voting rates - especially for young people).
High rates of social media use. In NZ 88% of the online population aged 15+ are using social media (Facebook and YouTube the most popular).
What we tested
We tested the assumption that there's value in government listening to what people are saying on social media (in this case twitter). This is something that's been done in Taiwan with the idea of using digital for 'scalable listening'.
Can 'scalable listening' be used to make feedback something that happens automatically, not something governments have to "go get"?
What we did
4 hashtags found in an initial crawl of the #nzpol hashtag were selected for further investigation:
#OIA
#fixtheOIA
#OfficialInformation
#GovtTransparency
Each of these appeared 48 times, except #OIA which appeared 49 times. At first glance it looks like a good discussion. However, they were one tweet by @domesticanimal and 47 retweets.
Image: OIA tweet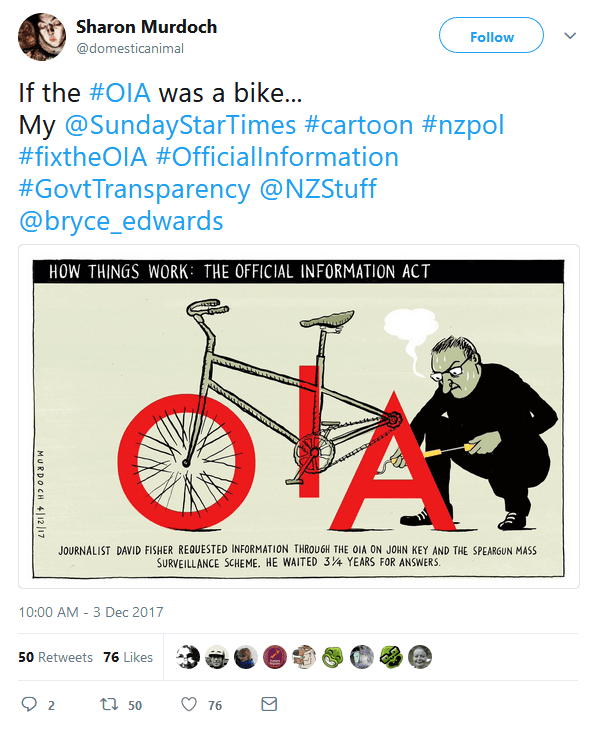 Detailed description of image

A screenshot of a twitter message saying 'If the #OIA was a bike… My @SundayStarTimes #cartoon #nzpol #fixtheOIA #Officialinformation #GovtTransparency #NZStuff @bryce_edwards' with a picture of a bike where the letters OIA form the wheels and part of the structure of the bike, with the capital A being the back wheel. A man is pumping up the back wheel while sweating. At the top of the picture is the title 'How things work: the Official Information Act'. At the bottom of the picture, there is some text saying 'Journalist David Fisher requested information through the OIA on John Key and the Speargun Mass Surveillance Scheme. He waited 3¼ years for answers.'
The tweets were analysed using two methods:
Afinn - weighted words
Sentiment - positive and negative
Using two methods provided a more robust way of analysing the data. We wanted to identify trends in behaviour. Is the person normally negative? Or is it just about political issues? This information could be used to moderate the data - how do you interpret many tweets from one person vs one tweet from someone else?
Moderation can be used to pick up signals from a broader base of quieter voices, or to identify points of consensus within complex issues.
Getting past 'the noise' is an issue voiced by Auckland and Wellington Councils, and ActionStation.
Insights
People are talking about political issues on Twitter. Overseas evidence shows that people are encouraged to participate in democracy, especially young people, if they're active politically in social media.
There's value in doing some more deep dives into the data to see if government can do 'scalable listening' in an open way. Ideally, look to moving from discussion to decision making.
We need to keep in mind that:
There is the potential for people to 'game' or manipulate it.
Volume levels in NZ are low compared to overseas, which makes sentiment analysis more difficult.
You need some statistical/data crunching skills to produce robust insights.
Subject matter expertise and technical work for this research was done by Jay Gattuso, Digital Preservationist, from the National Library. Many thanks to Jay for his invaluable help.
Have your say about this page
Is there something wrong with this page?
Last Updated
Page last updated: