By Sara Greig

published

on
This is the second blog post in a 2-part series on improving content and the user experience with help from Google Analytics. This post focusses on improving content once it's published. See the first post on "Improving content and user experience with Google Analytics search pages".
Sometimes you have to make content decisions based on assumptions. This could be because there's no opportunity to do user testing or maybe you can't push back on what your client wants. While this isn't ideal, you can at least use Google Analytics (GA) to monitor the published content to see how it's performing — you can then make improvements if user pain points are identified later down the track.
Improving the order of an accordion list
We have recently made some improvements to information for marriage celebrants on Govt.nz. As part of this, we reviewed internal links to this information. On the Births, Deaths and Marriages (BDM) homepage there is an accordion list (a list that can be opened or closed to show or hide information) that links to information about their services, including a link to information for marriage celebrants.
In GA the accordion list was being tracked as an Event. Events have to be set up manually, but they allow you to track things that GA doesn't automatically track.
The results were quite surprising. Death and bereavement was the most clicked accordion link with 28,489 unique events (clicks) from May 2016 (when BDM content was published) to 22 June 2017. Proving your identity, which was the top link in the published accordion, only had 8901 unique events (clicks).
Death and bereavement was listed 6th in the accordion list so the published order didn't match what users were most interested in. The order could be changed so that the most sought-after information was at the top and was easier to see.
There were also a lot of in-page searches for death and bereavement information on the BDM homepage — 1,502 total unique searches for death-related terms from May 2016 to 22 June 2017. So this also backed up potentially moving the death and bereavement link up the list to make this information more visible.
The BDM page has a list of blue buttons at the top of the left-hand navigation that highlight their top services, for example get a birth certificate. Links to this information is also repeated in the accordion list further down the page.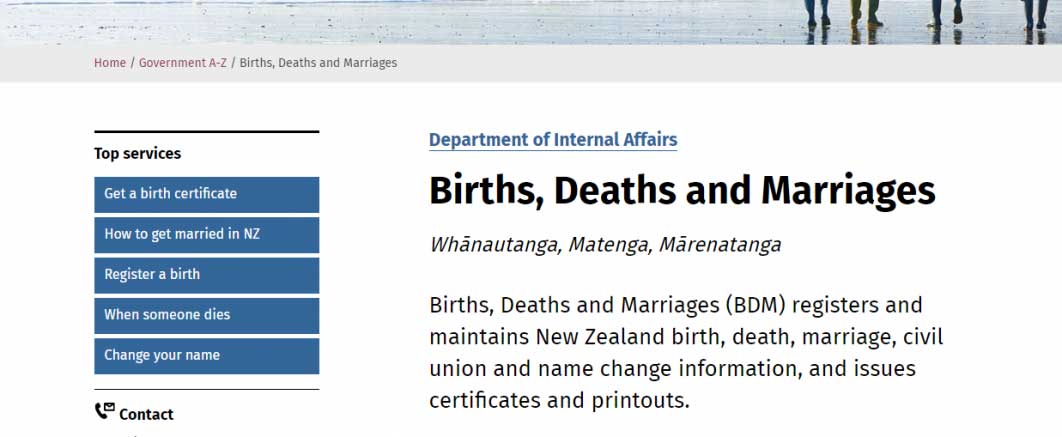 Blue buttons that link to top services include: get a birth certificate, how to get married in NZ, register a birth, when someone dies and change your name.
With all these factors in mind, Government Information Services' (GIS) content designer Trina Walker looked at the best order for the accordion list. [GIS is responsible for managing and improving the all-of-government Govt.nz website.]
We know from analytics that the blue buttons (top services) in the left-hand navigation already get a lot of attention, so we decided to move links to these topics down in the accordion list. This would help to raise the visibility of some of the other topics, like death and bereavement.
A new order based on what users want to see
The link to Death and bereavement has been moved up so it's first in the accordion list. The link to Information for marriage celebrants, which we were initially looking at, has also been moved up the list.
We can now monitor this new order and see if any further improvements need to be made.
Make small changes and monitor regularly
Using GA regularly can help content people make better content decisions that are focused on user needs. Talking about content data with clients can give you the backup you need to achieve the best results for users. It is helpful to regularly check data so you get into the habit of testing your assumptions as you work. Using it regularly will also help you to notice any new trends or patterns that arise, like a spike in searches around a certain topic that might need further investigation.
Remember to monitor any changes you make (noting the date you made the change) so you can see what difference has been achieved. Using GA can help improve content so people can find the information they need in the easiest way possible.
More information
Read part 1 of this blog series: Improving content and user experience with Google Analytics search pages.
Guidance: Google Analytics for content design
Utility links and page information