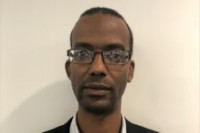 Hisham is passionate about digital inclusion, AI (artificial intelligence) governance and policy, and online safety for ethnic communities. He represents the Ministry for Ethnic Communities on the Digital Inclusion Cross-government working group.

He uses his backgrounds in community engagement, governance and AI to bring communities and policy makers together to address impacts of inequity in automated decision making, moderation of harmful content, digital safety, and digital inclusion.

In the recent past he worked with several government, academia and community stakeholders on New Zealand-wide engagements which led to reports that deepened understanding of the digital inclusion journeys of ethnic communities and reflected their perspectives on the impact of automated decision-making in Aotearoa.