Assurance guidance for Agile delivery
Download a PDF version of this page:
1. Introduction
1.1 Purpose
The primary purpose of this guidance is to support government organisations in applying good practice assurance to Agile delivery, typically as part of a digital transformation programme or project.
1.2 Context
This guidance sits under the All-of-Government Portfolio, Programme and Project Assurance Framework and should be viewed as an extension to that framework, which outlines the principles of good assurance.
All-of-Government Portfolio, Programme and Project Assurance Framework
We recognise that many government organisations are adopting 'agile' ways of working beyond software development. We believe that the guidance in this document can be applied more broadly to these programmes and projects. For that reason, we have used the term 'Agile delivery' throughout the document to denote both IT and non-IT delivery. We have used the terms 'software' and 'product' interchangeably to mean the delivery of value.
This guidance is intended to be methodology agnostic. However, where necessary, we have used Scrum terminology to illustrate what's different about Agile delivery. Scrum is the most common Agile approach used by government organisations.
1.3 Benefits of Agile
Over the last 2 decades, linear or sequential approaches to software development (often described broadly as 'Waterfall' delivery) have been supplemented by more iterative and incremental approaches. These approaches are typically described as 'Agile', although this umbrella term covers a family of many diverse software development and delivery methods, including:
Scrum and Scrum hybrids (Scrumban, Scrum/XP, and so on)
Kanban
Lean
Scaled Agile (SAFe), Large-Scale Scrum (LeSS), Disciplined Agile Delivery (DAD), Spotify Model, and so on.
Agile approaches focus on creating and delivering value incrementally. For example, working software is frequently released to customers to realise benefits.
A key component of any Agile approach is an iterative, continuous approach to planning that defines and elaborates requirements just in time. This is a shift from the traditional, fully scoped approach that plans and defines requirements at the very start of the project. Moreover, Agile delivery is based on business priority or value, and no assumption is made at the start that all scope items will be delivered.
Agile teams have fast learning-and-adapt cycles to continually improve their performance, and to closely engage with the actual users and customers of the product so that quality can be built in and tested during development.
The team should be continuously delivering 'just enough' to achieve the business need and to be able to respond quickly to change while still having delivered benefits to the customer.
According to the 12th annual State of Agile report (COLLABNET, 2018), the benefits of adopting Agile delivery include:
ability to manage changing priorities
project visibility
business / IT alignment
delivery speed / time to market
increased team productivity.
12th annual State of Agile Report
1.4 When to use Agile
It's important to recognise that Agile may not always be the most appropriate approach for delivering change. Agile methods are generally more suited to projects where the requirements and how to fulfil them using current knowledge and technology is unclear. This is illustrated in the following diagram, Figure 1.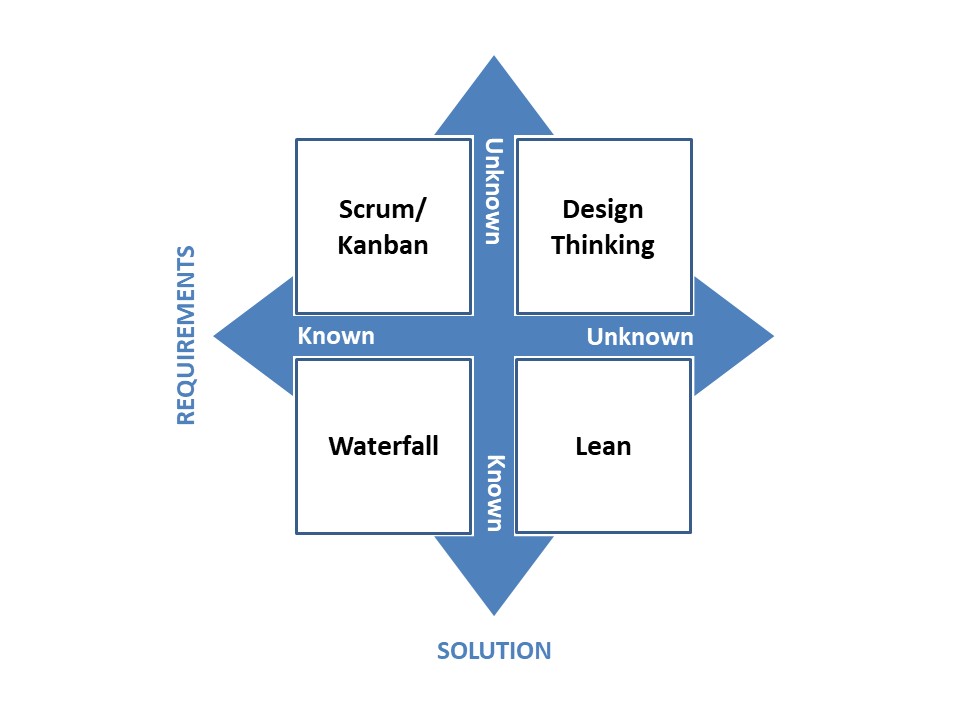 For example, projects that have clear and stable requirements with a clear solution will generally have less uncertainty and may be best delivered using Waterfall, especially if your organisation does not have experience in Agile delivery.
Conversely, if both the requirements and solution are unknown, then Design Thinking can be used to develop a Lean start-up experiment which may help determine whether Scrum / Kanban, Lean or Waterfall is the most appropriate delivery method.
Other factors that can contribute to project uncertainty include:
high numbers of stakeholders with conflicting needs
high levels of dependencies between parts of the project
complicated procurement models, multi-vendor engagements
larger, longer programmes or projects.
2. Agile roles
2.1 Scrum teams
Scrum is the most widely-used Agile approach and is suitable for most types of software development and delivery.
The Scrum team and its interaction with key stakeholders and customers / users is illustrated in the diagram below. There are 3 key roles in the Scrum team: Product Owner, Scrum Master and the Development team. Each role is described in more detail in Figure 2 below.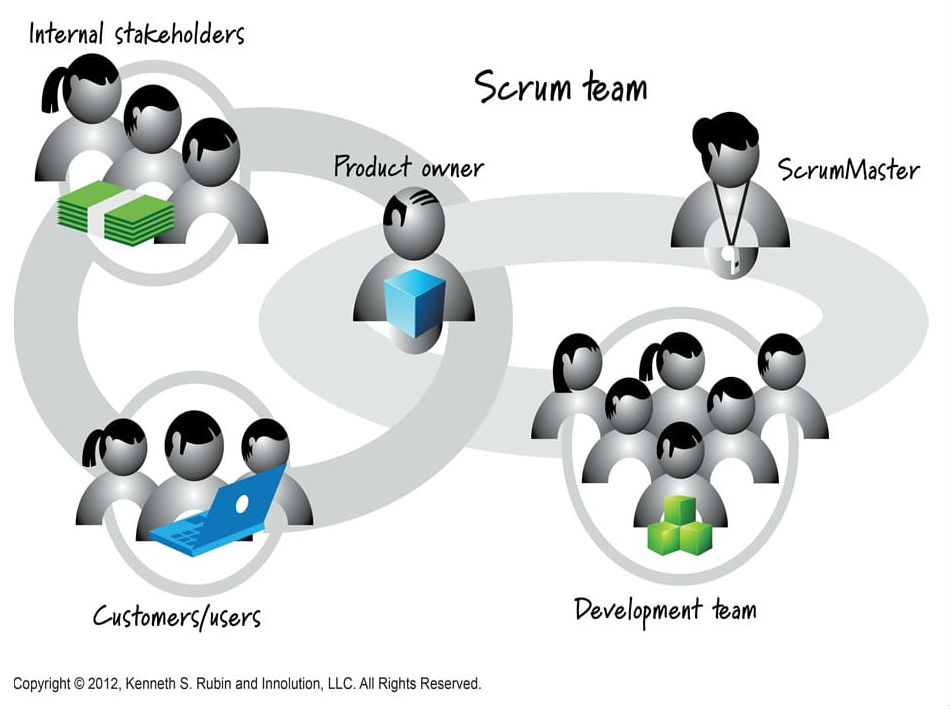 2.2 Product Owner
The Product Owner is a key role in Agile delivery. They work with key stakeholders to agree and prioritise scope, create a vision and a delivery roadmap for the product, and agree the defined scope of releases with the Development team.
The Product Owner role is also critical in managing complexity by making sure any ambiguity in scope or any conflicting stakeholder requirements are resolved in a way that lets the team focus on a small amount of well-defined scope at a time (typically called a 'feature' or 'story').
This role typically places much higher demands on an individual than the equivalent PRINCE2 role of Senior User on a Waterfall project. Teams often need frequent (ideally daily) contact with the Product Owner to clarify scope, make priority calls and review completed work. The Product Owner sits at the centre of many Agile frameworks, acting as the interface between users / stakeholders and the Development team.
Appropriately tailoring this role for your project context is important, particularly the decision-making authority of this role compared with a Senior Responsible Owner (SRO) or Programme / Project Manager. A common approach is to use tolerances to delineate responsibility (in other words, the Project Manager may make decisions that impact a sprint or iteration, whereas the Product Owner or Programme Manager may have authority to make similar decisions within the context of an overall Release or Increment. Using this approach, any decisions that impact overall benefits need to be escalated to the SRO.
2.3 Scrum Master
The role of the Scrum Master is as a 'servant leader' and guide, helping the Development team, Product Owner and the wider organisation understand and implement Agile practices.
The responsibility of a Scrum Master is quite different to that of a Project Manager (but may sometimes be regarded as the 'Project / Team Lead'). The Scrum Master does not have responsibility for delivery and does not allocate work packages or tasks to Development team members (instead the Sprint or Iteration Planning process governs the agreement between Product Owner and the Development team for each sprint or iteration).
In the context of a plan-driven programme or project, the Scrum Master may help the Programme or Project Manager to integrate typical Agile processes such as iterative and incremental planning and delivery of scope using a programme- or project-level schedule and budget.
2.4 Development team
The Development team in Scrum ('Dev Team' in SAFe) is a generic name for the people working at the delivery level (for example, analyst, designer, developer, tester), who often have cross-functional roles. The role description is deliberately abstract to reinforce the concept of group accountability and to encourage multi-skilled or 'T-shaped' people.
The Development team is self-organising and any interaction outside the team is managed by the Product Owner who has regular interactions with all stakeholders and is typically regarded as voice of the customer.
In contrast with traditional approaches, the agreement to deliver a work package or task is directly between the Development team and the Product Owner (work is not allocated; rather it is taken on at regular intervals by the team, based on their assessment of their current capacity and capability).
Team size is generally kept at below 10 people and physical colocation is encouraged to maximise effective communication. Ideally, the Product Owner and user representatives are also colocated with the team.
3. What's different about Agile assurance?
The outcomes for Agile assurance are no different to those for traditional assurance approaches. In other words, they should provide stakeholders with confidence that the expected investment outcomes and benefits will be achieved.
However, Agile is more self-assuring than Waterfall. This means that assurance is part of the delivery process, with risk management embedded into day-to-day operations and governance arrangements.
This section defines some of the key differences between Waterfall and Agile delivery using the '3 lines of defence' model. This model is used to clearly define roles and responsibilities for effective risk management across the organisation. In the world of delivering programmes and projects, we use the following descriptions for each line of defence:
The first line of defence is the day-to-day project management processes and controls you have in place, including quality management.
The second line of defence is the governance and oversight arrangements that exist, including clear and signed-off terms of reference for all governance bodies.
The third line of defence is the independent assurance you obtain from internal (for example, Internal Audit) and third-party assurance providers.
It's important you give appropriate thought to tailoring your assurance approach to take into account the following key differences between Waterfall and Agile delivery across the 3 lines of defence.
3.1 First line of defence
Planning documents focus on specifying outcomes and desired capabilities rather than specifying deliverables in detail. This focus enables the team to be agile.
Day-to-day management of workflow shifts from being Project Manager led to being delegated to self-organising teams. Teams define and self-allocate the tasks required to meet agreed goals. This is usually done via a daily stand-up.
Planning (for example, 'Sprint Planning' or 'Programme Increment Planning') is conducted more frequently, occurring in waves as the project proceeds and details become clearer ('rolling wave' planning).
The Definition of Done (DoD) is the key measure of quality, and the focus shifts to building in quality and testing during delivery rather than testing for quality at the end. A clearly defined DoD creates an environment of 'assurance by design' that is supported by:

regularly scheduled ceremonies throughout the programme or project
appropriate technical practices which are embedded into delivery (for example, testing, continuous integration, and automated release).

Teams have mechanisms to regularly review and improve how they are working together. For example, the 'Sprint Review' and 'Sprint Retrospective' in Scrum, and 'Inspect and Adapt' process in SAFe.
As Agile environments are more collaborative, relationships with vendors and the colocation of teams and business representatives (or lack of them) become more important indicators of likely outcomes.
The key risk mitigation in Agile delivery is frequent releases of software to production. Failure to release frequently exposes the programme or project to high levels of risk. This is because Agile delivery typically doesn't have a planned 'test and fix' period at the end of development, rather it is handled within the sprint before the 'feature' or 'story' is completed. A programme or project that isn't releasing software frequently should act as a 'red flag' for governance bodies and independent reviewers.
The Product Owner role is critical to being able to quickly clarify scope and set priorities for teams, and to make sure the outcomes of the project can be delivered. This means the Product Owner should be delegated the appropriate authority to make decisions about time, scope and cost, and have a strong relationship with the SRO as their day-to-day representative on the programme or project.
3.2 Second line of defence
Clear and signed-off terms of reference for governance bodies are tailored to allow appropriate delegation of decision-making to the Product Owner (or equivalent role).
Governance bodies are prepared to meet more frequently, as required, particularly where limited authority is delegated to the Product Owner. (Agile delivery requires faster and more frequent decision-making.)
Governance bodies need to understand a new set of performance metrics and should consider appropriate executive coaching if Agile delivery is new to the organisation. When working well, Agile provides increased transparency through real-time measures of progress:

The primary measure of progress is seeing working product delivered into production (rather than milestones based on achieving phases of the delivery lifecycle).
Burn-up or burn-down charts at the project or release level show the likely project outcomes (rather than qualitative 'percentage-complete' or 'red-amber-green' reporting). In the following chart, Figure 3, the forecast is based on actual performance to date and indicates that the project is unlikely to deliver within the agreed tolerance range.