By Linda Sanders

published

on
Wellington's cross-agency Service Innovation Lab is attracting interest from as far away as New York and Poverty Bay in New Zealand.
Former White House Deputy Chief Technology Officer Beth Noveck met kindred spirits when she visited the cross-government SI Lab on 31 July.
Two days later it was the turn of Helen Potiki, Director of the Department of Internal Affairs Chief Executive's office.
Helen, who originally hails from Tolaga Bay, wanted to know how the work being done at the Lab could make a difference for New Zealanders such as her whānau. She was most interested in learning how agencies operating across a range of areas and disciplines are working collaboratively.
Helen's background includes leading policy work for the Ministry of Women's Affairs and a major research project on flexible work, looking at how the public service can work to better focus on the needs of stakeholders. This may over time result in big changes to the way the public sector provides services.
She was excited to see how the Lab's work was so relevant to current government thinking regarding tailoring services around consumer needs, rather than departmental structures.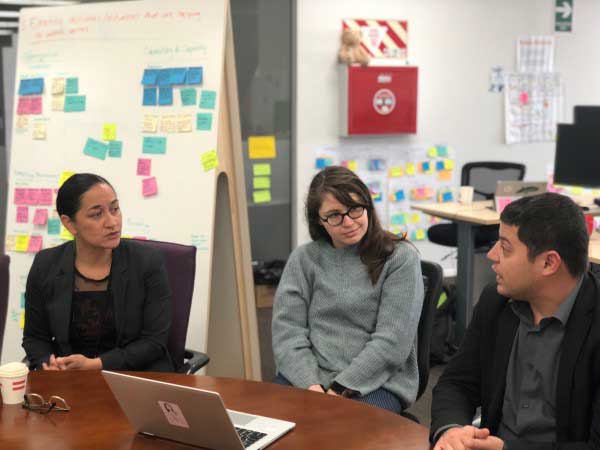 During her visit to find out more about how the Lab operates and its areas of focus, Beth observed there are lots of exciting things happening there that others can learn from.
Beth's interests lie in open government, digital democracy and how countries can adopt more evidence-based government and decision making. Her focus includes how to scale and impart skills, build a mind-set of public entrepreneurship and break down silos in data, design and behaviour. She is a professor in technology, culture and society at New York University's School of Engineering and directs the Governance Lab; creating an innovation agenda within governments, training civic leaders, and improving the UK's National Health Service's ability to use data within its system. One project, Crowdlaw, uses technology to tap public knowledge and expertise to improve law-making.
Beth heard about some current key New Zealand government initiatives including the appointment of a Chief Technology Officer, work being done to increase digital inclusion and digital rights and the development of the Digital Government Strategy.
During the visits Integrated Services Manager Darryl Carpenter explained how the Lab started off by experimenting with small service improvements. The team found it helped inter-agency collaboration blossom through working together to identify user needs or problems and resolving them through analysis, design and testing.
Pia Andrews, service integration lead, spoke about transforming government services delivery through mapping life journeys, identifying and creating reusable components to support digital services (including legislation as code), engaging with service delivery partners like the Citizen Advice Bureau, researching emerging technologies, and taking an evidence-based and user-centric approach.
Nadia Webster from the Lab and Pim Willemstein from the Better for Business programme talked about how legislation and rules (drafted as code and published as open data) can help create better services. Such ways of working could avoid the kinds of problems caused by difficulties with interpreting the Holidays Act. Better for Business is a cross-agency programme developed to develop easier and smarter ways for business and government to interact.
While in Wellington Beth also met with Minister Curran and spoke at a 'Thought Leaders' seminar hosted by the Australia and New Zealand School of Government.
Footnote: It was announced on 8 August that Beth, Pia and Minister Curran have all been recognised among the world's 100 Most Influential People in Digital Government for 2018 by global platform Apolitical.
Utility links and page information