By Andrew Earnshaw

published

on
26 September marks the start of a new era for procurement in New Zealand. With the launch of www.marketplace.govt.nz we're taking advantage of what digital platforms can offer and making it easier for suppliers, especially small and emerging suppliers, to work with government organisations.
Why we're doing it
The move to digital procurement is happening across the globe. Chris Webb, General Manager Commercial Strategy and Delivery at the Department of Internal Affairs has been tracking this trend for a while, and through meetings with like-minded international colleagues knows it's a hot topic.
"Government procurement is changing internationally – we don't buy as we once did. And we're seeing a real demand amongst government users to be treated as consumers – they know the services are there, and they want access to them to get their job done now." Says Chris.
The goal, for now at least, is to remove the barriers for suppliers and government customers to do business. "We want to get out the way as much as we can" says Chris. "And we can achieve that by providing a platform for buyers and sellers to meet, review their needs and transact."
It's fair to say that moving the procurement process from a largely manual approach to an online model is a big step up for government, and presents many opportunities for the future. Put simply, the Marketplace represents a new way of thinking about how government can work as a 'single customer'.
"There's a need to acknowledge the risks involved with that kind of approach, and how we best manage them from a security, operational and commercial perspective. But they are manageable, and we know the end result is worth getting to."
How does the Marketplace work?
The Marketplace aims to simplify how government buys and make it easier for suppliers to sell to government. This will reduce the time, cost and complexity that come with traditional procurements, as well as increase choice and improve access to innovation.
The Marketplace allows government organisations to view, compare and buy services all from the one place. Functionally we've split the Marketplace into five simple stages, each with a number of capabilities linked to them.
These five functions are: On-boarding, Catalogue Management, Fulfilment, Billing and Payment and finally Data and Analytics. These are the core functions are designed to meet the Government rules of sourcing and create a dynamic market environment.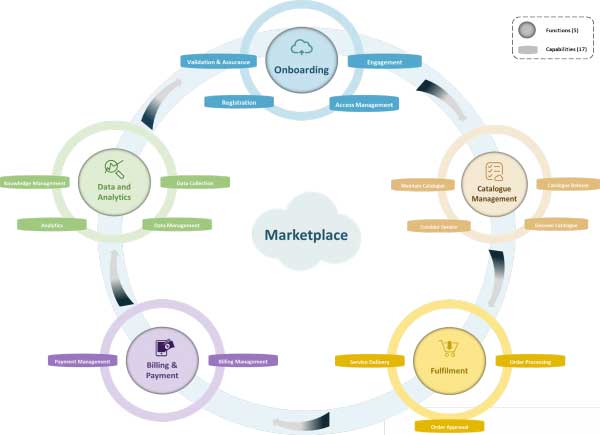 View a larger version of the Marketplace functions and capabilities image (PNG 437KB)
Detailed description of diagram

The Marketplace has 5 functions. Function 1 is on-boarding, which has 4 capabilities: engagement, access management, registration, and validation and assurance. Function 2 is catalogue management, which has 4 capabilities: catalogue release, discover catalogue, consider service and maintain catalogue. Function 3 is fulfilment, which has 3 capabilities: order processing, order approval and service delivery. Function 4 is billing and payment, which has 2 capabilities: billing management and payment management. Function 5 is data and analytics, which has 4 capabilities: data collection, data management, analytics and knowledge management.
What is the Marketplace delivering?
The capabilities available on Marketplace are sorted by Channel, Catalogue and Service. The first channel will be for Public Cloud Software as a Service (SaaS) providers. In the coming months we will add more service lines and update the list here:
We picked Public Cloud SaaS as our first channel because it includes a set of products well used by government organisations, but doesn't currently have a home. We'll add more catalogues and services to this channel over the coming months.
Does it work?
We Beta tested Marketplace with a range of suppliers and agencies. They showed us they could set themselves up as buyers or sellers and tested all the core functions.
They also provided valuable feedback– the reaction was positive and the suggested improvements practical.
We believe this model provides an opportunity for suppliers who may not traditionally respond to Government Requests For Proposals (RFP)'s to put their product or service in front of a broader government audience. The low barrier to entry including simple, standardised commercial terms and being open 24/7, allows suppliers to apply when they're ready, rather than on a cycle dictated by Government.
For agencies, buying from the Marketplace is a secondary procurement process, with agencies able to set their own business rules and approval processes for purchasing. The one-time registration and set up process and the ability to share information on listed Marketplace services is also useful.
So what's on our roadmap?
We have a draft roadmap of capabilities to put into the Marketplace and additional functions to build on the core.
We are planning to refresh some of our current all of government panels through Marketplace, and this could include things like professional services. However, we want to get our feet under the table, make sure we can do the first part well, then come back and consult with our users (suppliers and buyers) and potential users on where we go next.
Published
Categories
Tags
Have your say about this page
Is there something wrong with this page?