By Richard Foy

published

on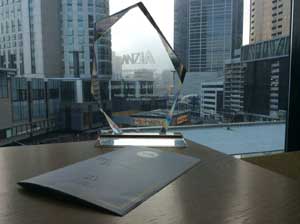 Caption: Our shiny trophy with a view over Melbourne.
We built RealMe (along with our friends at New Zealand Post) to create trust and confidence for the user and the organisations offering online services that require proof of identity. We didn't build it to win awards. That's just a cherry on the top.
Yes, RealMe has taken out the Security & Online Safety category at the Australia and New Zealand Internet Awards. We were up against some stiff competition, and judging was tough, but ultimately, we made it out of there with this shiny piece of Lucite.
More than the trophy though, this award is an acknowledgement of the central role RealMe plays as a part of producing better government digital services for New Zealand.
In their press release about the win, InternetNZ's Jordan Carter said
Security and Online Safety are so important to how we use the Internet. We won't maximise the Internet's full potential if we do not trust it. It's projects like RealMe that help give New Zealanders faith that what they do online is safe and secure.
Having New Zealanders put their faith in us to keep their identity secure is something we take very very seriously.
As we look to the future, I'm interested in ways that we can use it to improve people's interactions with government as they move through various life events — like John has spoken about from the perspective of Federated Service Delivery.
We're looking forward to more government agencies augmenting the more than 50 services that currently use RealMe logins and the five who make it easy for their customers to prove their identity with a verified RealMe account. There are four and a half million reasons why they should get on board.
Published
Categories
Tags
Utility links and page information