By Kellee Candy

published

on
The Department of Internal Affairs (DIA) has a strong focus on delivering government services online. And now, we're working towards digitising the New Zealand citizenship application process too.
Over the past few years, the Department of Internal Affairs (DIA) has had a strong focus on delivering digital government services. This involves getting new processes online, and working to continuously improve them.
So far, we've successfully transformed some of our most commonly used services for the digital age, including birth registration and applying for a marriage licence. And now, we're working towards digitising the New Zealand citizenship application process too.
We've recently started using mindsets to inform the design process of our services. And we're using the online application for NZ citizenship to trial 5 new mindsets we've developed.
New Zealand citizenship
There are 3 different types of NZ citizenship people can apply for: by birth, by descent or by grant.
People who apply for NZ citizenship can come from many different backgrounds. They might speak English as a second language or hold a different cultural worldview. But the one thing they all have in common is the task of applying for citizenship. That's why we needed to design the service in a way that focussed on the task, and accommodated a wide variety of different needs.
Using mindsets to guide the design process
In the past, we used personas to help guide the design process. They aim to make sure that our services work well for all New Zealanders whatever their background. Personas consider factors about our customers such as their geographic location, digital capability, and age.
More recently however, we've started using mindsets.
Mindsets drive the way people feel and behave in a given situation, for example their attitude or behaviour when interacting with government online.
While personas are 'set in stone', mindsets can change. Mindsets acknowledge that a customer who's acting a certain way in one situation could be led to act in a different way when given a specific motivation or trigger. For example, a positive experience with a helpful staff member, or a not-so-great experience with delays in their application.
We developed our mindsets in figure 1 through workshops, interviews and surveys with customers.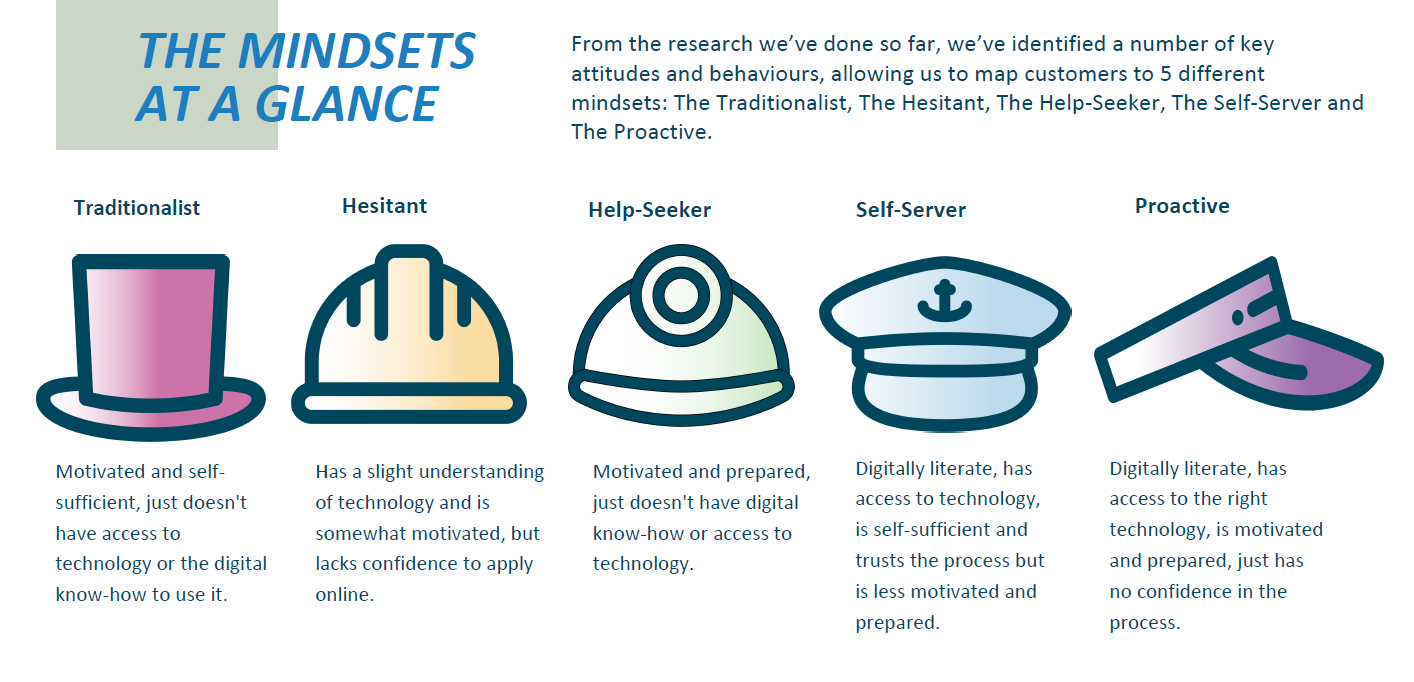 Thinking about these mindsets throughout the design process helps us to recognise situations where we might expect a customer's mindset to change. These situations include:
frustration with the quality of a service
the urgency of the service required
accessing services with impairments in mobility, vision or hearing.
We can then consider how we might support the customer at those points to make sure the service is low-effort, accessible and increases their confidence.
What we found
When we applied these mindsets to our prototype for the online citizenship service, we found 3 different types of information seekers:
Customers who want to be prepared and do a lot of research before starting their application.
Customers who just want to apply and expect the form to provide the information and help as they need it.
Customers who do some research, but also want the form to help them as they go.
In response to these findings, we designed the online citizenship application to have both detailed pre-application information as well as guidance and error messaging for any difficulties customers run into. This helps our online services cater to the greatest possible range of customers and how they'd like to apply.
Continuing to improve online services
Our service designers have recognised a number of future improvements through their use of customer mindsets. We'll continue to explore how we can create services that work well for all New Zealanders, and we'll use the customer mindsets to help us do it.
Utility links and page information