GEA-NZ dimension: Business
The business dimension is one of the 4 core dimensions that represent the operational aspects of your enterprise architecture. It has 5 focus areas.
The business dimension is a representation of the business processes, products and services that deliver the outputs of the organisation.
Its 5 focus areas are customer, channel, products and services, people and organisations, and processes.
It emphasises customer centricity (putting the customer at the heart of what we do) and channel shift (finding the best ways to deliver service to your customers).
Reference taxonomy
To download the reference taxonomy for business, see: Reference taxonomies.
Relationships to other dimensions
Table 1: How business layers influence and inform other dimensions

Dimension
Influence
Strategy, investment and policy
Informs strategy and investment by identifying business functions, customer segments and services, and the organisational resources that support them.
Governance and performance
Helps identify potential metrics for service performance and customer needs, and gives structure to analyse business performance, for example, cost-to-serve.
Standards
Sets out the business domains in which standards are defined or required.
Identity, privacy and security
Identifies the business elements (customer segments, services) that require security and privacy protection, and the business requirements for identity and access management across channels.
Data, information and analytics

Sets the business requirements for data and information, and identifies potential duplication and gaps.

Supports effective use of the data within the data system aligned to the outcomes.

Application and software services
Sets the business requirements for application and software services across customer segments, channels and automated business processes.
Infrastructure
Sets the business requirements for infrastructure, including location dependencies, capacity forecasting and potential sharing opportunities and constraints.
Five focus areas of the business dimension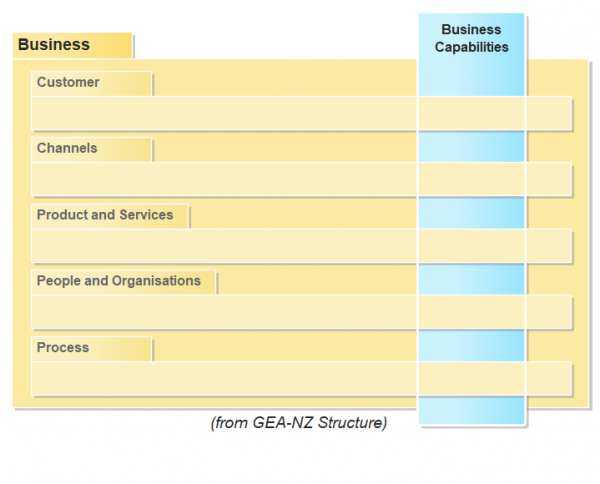 1. Customer
About the customer focus area

He aha te mea nui o te ao. He tāngata, he tāngata, he tāngata.

What is the most important thing in the world? It is people, it is people, it is people.

— Māori proverb.

We usually think of 'customers' as being the people who receive services directly from an organisation. In GEA-NZ, this extends to groups and organisations — we define services that deliver to:

individuals and families
businesses and organisations
society and the environment
government itself.

To be customer centric, focus must start with the customers' needs. After all, meeting those needs is the reason for an agency existing.

Depending on the agency, a customer could be an applicant, a client, citizen or consumer, an end user, user, and so on. Irrespective of the term, the framework supports having a humanistic focus on people as individuals or as part of an organisation interacting with government.

New Zealand has a unique culture. Under the Treaty of Waitangi, our founding document, Māori are partners with the Crown. This places obligations on agencies which may not have been well understood in the past. We need to consider how to engage with Māori in a meaningful way that respects the partnership relationship.

Most organisations will want to model their customers — by personas, segments, etc. — against such things as the services they receive, the channels they use, their location and demographics, and their cost to serve. Mapping customer journeys and life events also help us understand the context of service delivery and the design of user experiences.

New Zealand has strong privacy laws that restict what agencies can do with information about people. For guidance in managing information about your customers see:
All-of-government resources
Your agency's resources

Customer life journeys and life events – a catalogue of major customer life journeys and life events that help cross agency alignment for developing customer-centric joined-up services
Customer personas and profiles — helps deliver customer-centric services
Customer/channel matrix — shows how an agency's customers interact with its channels
Customer-facing service catalogue — shows customers the services an agency can provide to its customers
Customer/product and service matrix — shows how an agency's customers interact with its products and services
2. Channel
About the channel focus area

Channels are the means by which an agency delivers services and information to customers. Examples include:

face-to-face at agency premises
indirectly through intermediaries such as doctors, teachers or business advisors
indirectly through other agencies or non-governmental organisations (NGOs)
telephone/call centres
websites
application programming interfaces (APIs)

Channels need to be well managed and effective for customers to receive their entitlements and meet their obligations.

Considerations

The range of channels available today is extensive. While a for-profit business can choose to ignore some channels, and the customers that prefer them, this is more complex for a government service provider. A for-profit business usually has competition in a market, however a government service provider may be the only provider of a service and so may need to support more channels to ensure the services provided are accessible to all customers.

Sometimes the best channel is no channel at all; when reviewing channel options, consider the possibility of re-engineering the business process to eliminate customer interaction in the service or compliance activity. For example, tax returns have been eliminated for many customers through PAYE and withholding taxes, and departure card information can be sourced as a by-product of other records.

New channels may offer exciting opportunities but the cost of sustaining them can be higher than expected. An example of this are mobile applications; as new operating systems and devices are launched, the application needs to be redeveloped to work on these new technologies.
Your agency's resources

Channel catalogue — a managed list or catalogue of the channels used by the agency to deliver services, and a mapping to your customer segmentation, personas and customer capabilities.
Channel to service matrix — a mapping of channels to the services provided by the agency over those channels.
3. Products and services
About the products and services focus area

These include the products and services agencies are delivering to external customers, individuals, and organisation, other agencies, and the government.

A secondary focus is on the internal products and services, where the customer is another part of the organisation or staff (for example, a payroll service paying an employee).

Considerations

A customer-centric agency, promotes, manages and measures their customer products and services. Customers are engaged in the entire lifecycle of a service, helping to design and evolve it, as well as interacting with it.
All-of-government resources

There isn't a single catalogue of NZ government products and services. However, there are some partial artefacts, for example:

Partial NZ government service catalogues:

Blog post Research into government services

, about an attempt to map all government services for people and businesses.

treasury output classes can act as a highlevel structure for business planning purposes.

Application portfolio management (APM) — in future platforms, supporting APM should include the ability to catalogue agency products and services provided to customers, and show the relationships to: processes; information assets; supporting technologies; and business function. By taking this approach with APM the result is broader than just the technology and could be considered Digital Portfolio Management.
Digital service standard (DSS) — approved in 2018, the DSS provides a set of principles that guide development and management of NZ government services.
Federated service delivery (FSD) — FSD is about delivering customer-centric services across multiple agencies. This material includes high level patterns for federated service and also anti-patterns which are how not to do it.
Your agency's resources

Customer facing product and service catalogue — informs customers about the products and services an agency can provide them. Makes products and services easy to find.
Customer/Product and Service matrix — shows the relationship between the agency's customers and the agency's channels.
Customer facing product and service performance reporting — ensures that the products and services are delivering as intended. Used to develop product and service improvements as part of the product and service lifecycle.
Customer facing product and service satisfaction surveys — ensures that the products and services are matching the customer expectations. Used to develop product and service improvements as part of the product and service lifecycle.
4. People and organisations
About the people and organisations focus area

This part of the business architecture focuses on the sourcing of capability to deliver services — employees, contractors, supplier and partner relationships and the organisational structures that support service delivery.

Considerations

A modern digital organisation is a participant in a number of eco-systems and not a siloed entity that delivers service directly with its own resources. This theme is central to the Public Service Reforms , and is also fundamental to modern organisational strategy in the private sector.

The Strategy for a Digital Public Service outlines the characteristics of a modern organisation, including:

multidisciplinary teams
a culture of innovation and experimentation
a sensing organisation
fostering a learning environment
digital capability and skills

You can read more detail in the strategy: The collective behaviours that will characterise a modern, agile and adaptive public service

In the past, digital skills have not always been seen as a core capabilty for government, and agencies have been encouraged to outsource these capablities. In recent years the private sector has been reversing this trend. Analytics, automation, and service design all require domain knowledge, and technology skills, and moving towards in-sourcing and mixed sourcing models. Government is also recognising that digital skills are a critical enabler for the public service.
All-of-government and public resources
Your agency's resources:

Organisational structure
Sector partners
Corporate policies (HR, finance, sourcing, technology)
Supplier lists
Skills matrices
Job descriptions
5. Process
About the process focus area

The focus of process is understanding the business processes that are used by the organisation, or that the organisation participates in along with other organisations.

Considerations

Process modelling used to be one of the cornerstones of the traditional 'industrial' IT model, where the goal was continually improving efficiency through the automation and optimisation of regular, repeatable processes.

A modern digital organisation, however, recognises that over-automation and rigid process definitions can be counter-productive for customer and staff satisfaction, and ultimately for productivity. Furthermore, the organisational culture is impacted by dehumanising rigid processes, the overhead of dealing with exceptions, and the lack of responsiveness to changing environmental conditions and customer needs.

For some routine activities, regularity and automation nevertheless remain desirable.

A process is a set of activities that interact to achieve a result. They are how people, information and technology interact. The framework does not provide detailed guidance on process but acknowledges it is an important part of the context of understanding the business of an enterprise.

The following concepts should guide and agency's approach to business process modeling:

Artificial intelligence (AI) — features more and more in the decision points of a process and this both opens up opportunities for more effective and efficient decisions but also more complexity when needing to understand a decision.
Business process management (BPM) — focuses on improving performance by managing business processes. Any combination of methods used to manage a company's business processes is BPM. As customer-centric services are designed and delivered many processes will involve multiple agencies, often in quite fluid configurations creating new opportunities and challenges.
Business process reengineering (BPR) — as new digital technologies emerge, traditional business processes may be completely disrupted and this presents opportunities for the process to be completely re-imagined, which may be a step change from what has been considered the scope of BPR.
Industry process frameworks — many industries have designed processes frameworks that support best practice and often these can be used by agencies where their services align. Applications and software services are often aligned to these standardised processes which can simplify implementation.
Risk — where processes are undocumented there are risks to the maintaining the quality of the outputs, and to business continuity.
All-of-government resources

Common Process Model for Enterprise Support Services

The Common Process Model is available to all New Zealand government agencies investing in back-office enterprise projects.

These processes cover common support capabilities, including:

Finance
Human Resources Management
Payroll — being developed
Enterprise Asset Management
IT Service Management
Procurement
Work Health and Safety.

The Department of Internal Affairs is the custodian of this all-of-government initiative. For further information contact EnterpriseSupport@dia.govt.nz.

The Digital Government Leadership Group has endorsed this work, and the Digital and Data Investment Guidelines specify adherence to the common process model for Enterprise Support Systems.

The model was adapted by Inland Revenue from the New South Wales Government Standard Business Processes for use in New Zealand government agencies.

Digital Portfolio Management (formerly Application Portfolio Management - APM)

Digital Portfolio Management extends the concept of Application Portfolio Management and should include the ability to catalogue high level agency processes, and show the relationships to: products and services provided to customers, information assets, supporting technologies, and business functions. By this definition, DPM in fact provides a framework for a lightweight current state enterprise architecture.
Your agency's resources

Business architecture — an agency business architecture should contain a view of the processes of an agency, and include a process architecture. This will usually be at a more detailed level than enterprise architecture.
Business configuration — the detailed documentation or models that may support the configuration of the different parts of the business.
Business process models — models representing the enterprises processes developed using a standard notation such as business process modelling notation (BPMN), or even Visio flow diagrams.
Enterprise architecture — an agency enterprise architecture should contain a view of the high level processes of the agency.
Process framework – an agency framework showing a hierarchy of the processes of the enterprise.
Process documentation — the documentation of a process, its steps, decision points, tasks and who is responsible - for example, Standard Operating Procedures (SOPs). This documentation may include a range of artefacts from simple diagrams through to detailed models.
Utility links and page information