Enterprise risk maturity
The All-of-Government (AoG) Enterprise Risk Maturity Assessment Framework (gERMAF) enables agencies to assess their current level of risk maturity and identify ways they can improve.
Benefits of enterprise risk maturity
Higher levels of risk maturity support risk-informed decision making to:
better manage strategic risks and opportunities
optimise the allocation of resources to programmes and projects
improve day-to-day management of operations.
Agencies can complete their assessment using the online AoG Self-Assessment Tool or the spreadsheet version.
Benefits to agencies
Agencies can use the results of their self-assessment to:
have better conversations with senior business leaders about risk management needs to support risk-informed decision making
help 'right size' risk maturity to ensure risk management practices are fit for purpose
access external benchmarking reports and insights that can help them prioritise improvements (agencies that use the online AoG Self-Assessment Tool only)
help prepare for external assessments such as a capital Performance Improvement Framework review, financial audit or Investor Confidence Rating assessment, resulting in improved confidence by key stakeholders
support collaboration with other agencies and across sectors to lift risk maturity, including opportunities to demonstrate system stewardship.
Diagram: Overview of gERMAF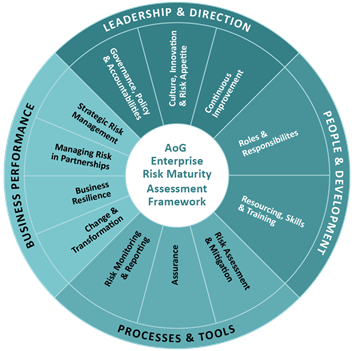 Detailed description of diagram

This diagram is a wheel depicting the attributes of the All-of-Government Enterprise Risk Maturity Assessment Framework.

The attributes are grouped into 4 quadrants. At the top of the wheel is the Leadership & Direction element which contains 3 attributes — Governance, Policy & Accountabilities; Culture, Innovation & Risk Appetite; and Continuous Improvement.

Moving clockwise on the right-hand side of the wheel is the People & Development element which contains 2 attributes — Roles & Responsibilities; and Resourcing, Skills & Training.

At the bottom of the wheel is the Processes & Tools element with 3 attributes — Risk Assessment & Mitigation; Assurance; and Risk Monitoring & Reporting.

Finally, on the left side of the wheel is the last element which is Business Performance with 4 attributes — Strategic Risk Management; Managing Risk in Partnerships; Business Resilience; and Change & Transformation.
Case studies
Find out how agencies are using the gERMAF and the benefits they're gaining.
Department of Corrections case study
Contact us
Email us if you have any questions about the gERMAF.
Email: self-assess.team@dia.govt.nz
Utility links and page information